I know! I have been away! I am SOOOOOOOO busy!!!! So, I just thought that I would drop in for a bit. :) Lots of updates…
Zoe is now in a toddler bed…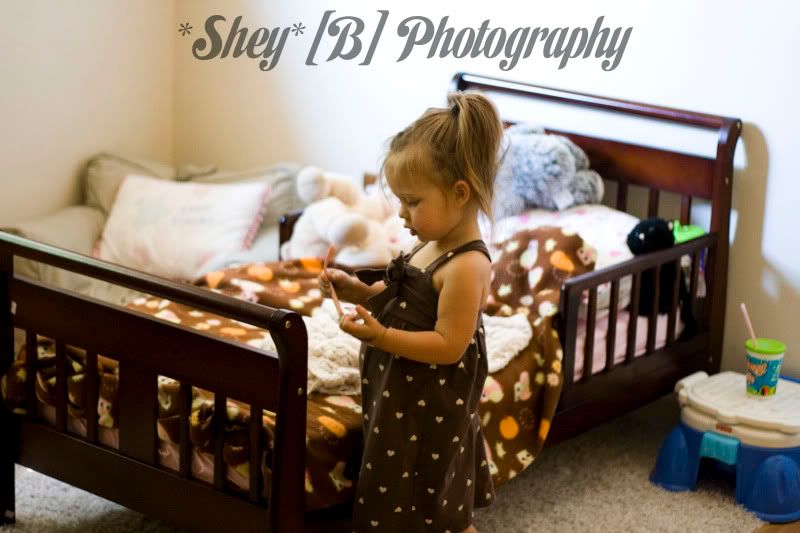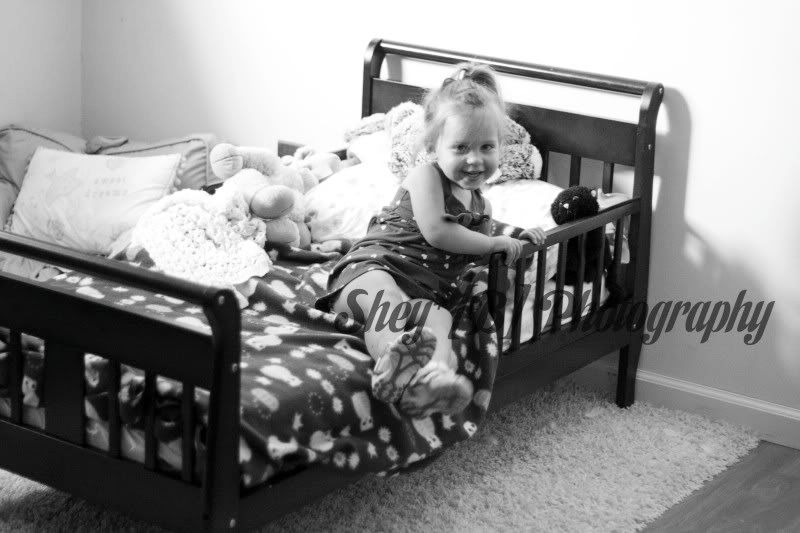 She is doing FANTASTIC!! The transition went very smoothly, and she actually stays in it. :) The day Mike put it together she kept running in her room and laying on it. Then yelling, "I'm going to bed, K?" It was so hilarious! She is also now wearing pull-ups. I figured why not do it all at once? :) She hasn't gone in the potty yet, but I am not forcing it. She will go when she is ready. That is what Angelina did. I don't believe forcing them to use the potty is the answer.
Sunday I finally appliqued a shirt for Zoe. I have been meaning to do this for a long time now. I just did I simple heart, but it's really cute…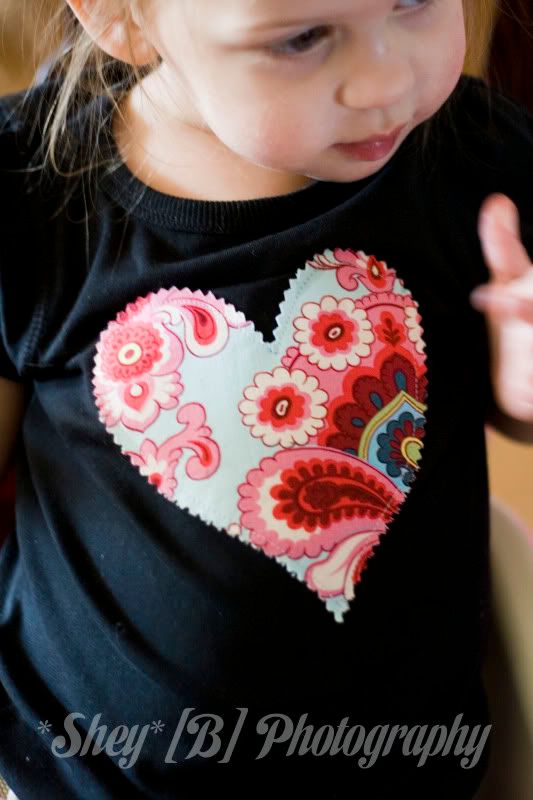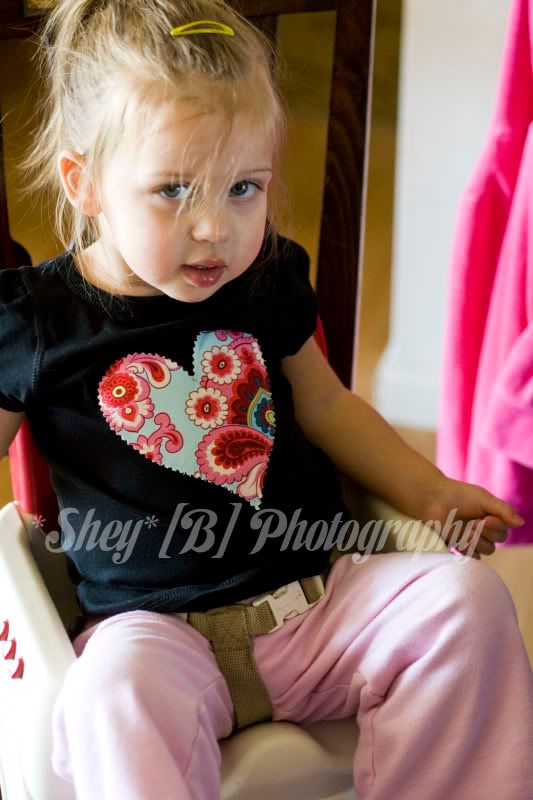 She loves it. She was pointing at it every couple of minutes saying, "heart!!"
Zoe has had this obsession lately with stickers. And not just sticking them on paper, but sticking them on daddy…
She is a crack up!
Today, Zoe started preschool/daycare. She is going 2 times a week, which is so nice for me. I am buried up to my eyeballs with orders, so this helps me out a lot! I dropped her off this morning, and stayed with her for a bit. She would play, and then run to me, arms up wanting to hold her and tell her it was OK. Then she would get down and run and play… and run back to me. ha ha! I stayed for 30 minutes so she could get adjusted, and then I left. The woman watching her/the teacher called me and assured me that she was doing just fine, and didn't cry one tear when I left. I was comforted by this. This will help her grow a little independent of me, which I think she needs. Not to mention, this will give me a chance to get a lot done. :D
I promised to show the fabric that I purchased… so, here it is… the top 3 are new.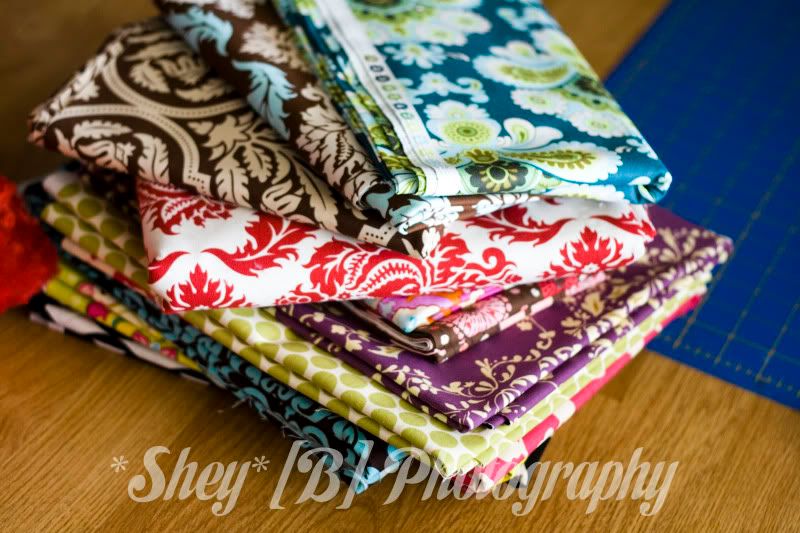 New minky!! It's curly minky. I love it!! Super soft and fluffy. :)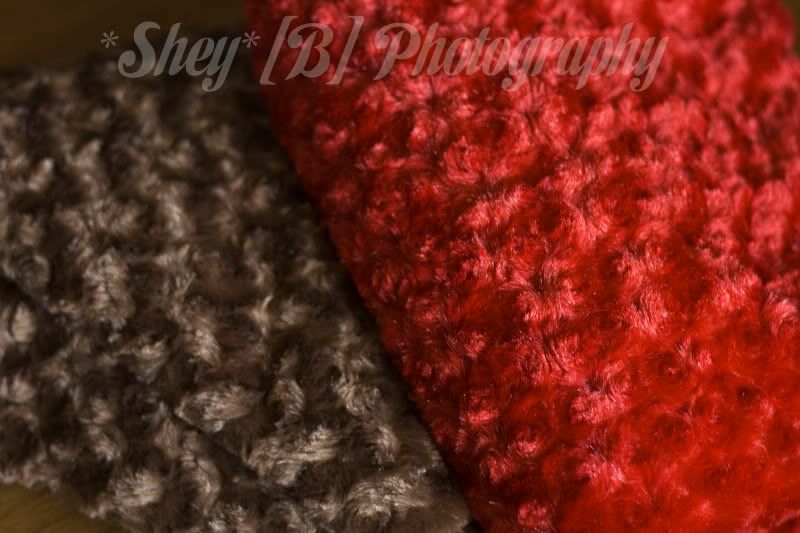 I will be adding these new fabrics to my shop soon… if you'd like to order them now, just email me and I will set up a listing for you.
And… I went. Yes… I went to the midnight Twilight DVD release at Borders last Friday…
Got lots of goodies. ;)
The front seat of my car looked like this last night… 30 packages off to their homes! Woo!
Well… I need to work on filling up my front seat with orders again. :)
Are you doing OK?
XOXO,
Shealynn