And, we have a winner! But first! Do you see my new blog buttons? Look over there ———>
Now you can copy the code and paste my buttons on your blog – if you would like to! ;) I won't mind, though. ha ha!
OK, fine! I will get to the winner. ;)
Drumroll please!
And the winner is…
Hmmmm…..
Should I really tell you?
OK, OK, OK!
The winner is…
Random Integer Generator
Here are your random numbers:
107

Timestamp: 2009-07-18 20:14:37 UTC
#107 : FDP 4 Life
Congratulations! You're SO lucky!! Please email me as soon as you can! If I don't hear from the winner in 4 days, I will draw another winner.

OK, everyone! Go on over to KJ's shop, The Dreamy Giraffe, and get your favorites!! She is running the Buy 1 Get 1 Free sale just for you [my readers] until Tuesday!!! Hurry! Remember… you MUST tell her you are coming from The Benner Daily or Shealynn sent you…

Thank you everyone for entering! So glad to hear from you, and know that a lot of you love her shop as much as I do. :) I will be back later today with some stuff that I have made, and some announcements about next month's *Shey*[B] Birthday Extravaganza! :)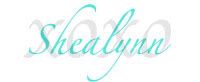 P.S. Look up! See my new signature? :D